Awesome stats we have in a day! Hihi. Thank you so much for all our visitors!
Also, we're glad that we reached half a hundred likes already in Facebook! Thank you thank you for liking us! If you haven't yet, puh-lease
like us on Facebook
! :) Hihihi..
Another Thank You goes to Chiminess' contest and all her sponsors specifically Angelic Doll.
Aside from the ".com" domain and this new layout, these are the items that I received for being the first prize winner on the blog contest last April.
Shipment from Angelic Doll
For ME! <3
Wonder what's inside... Hmmm.
A letter!
From Angelic Doll
Additional Item: Beaded Necklace
(This wasn't really included in the prize)
Maybelline Lipstick in Bonbon Pink
This is true! My lips have never been this softer!
I think I'll be doing a review about this some time soon.
Great product from Maybelline!
Geo Contact Lens in Nudy Series Gray
Contact Lens code: CH-625
I actually asked for the Princess Mimi in Gray but she sent me this Nudy Series in Gray. It already looked different when I first saw it but I decided to try if it will look like the one that I requested once I wear it. Unfortunately, I just realized lately that the code wasn't the same as the Princess Mimi's so clearly she have sent the wrong one. But, it's fine! I still thank her for sending me the prizes.
Here's what I've been asking for. The Princess Mimi/Bambi Series in Gray.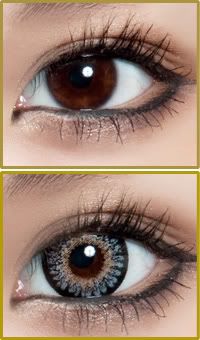 This is what I got. Not that bad actually. It is still pretty. Though, I was expecting for more color since I have dark eyes and this wouldn't be seen in pictures without flash.
with flash
without flash
We have tons of posts on queue since we started fixing our layout.. And now that it's published, we'll start posting it one by one..