Event: Marry Grace's Debut Party
Place: Heritage Hotel
Date: April 16, 2011
Time: Around 7 pm onwards
One of the many Philippine tradition is to celebrate a young lady's 18th birthday. We call it here "Debut". I'm not sure if it's popular in other countries as well but I'm pretty sure that it's a well-known celebration here. It goes with a list of program. Traditionally, there is suppose to be an 18 Roses and 18 Candles part. 18 Roses includes 18 males who will each give the debutante a rose and offer her to dance in a classical music. Usually, these are the men that became part of her 17 years of living. The 18th Rose signifies the most important man in her life (can be her boyfriend or father). However, the 18 Candles consist of 18 females, preferably her 18 best friends or close friends. These 18 women will light one candle each and state her wish in front of everyone. Though, these are the traditional parts on a Debut, many have already added some few twists on the program to make it a little more modern.
A Debut Season usually happens when you are in your 2nd to 3rd year in college. It is the time when you and your classmates or friends turn 18 years old.
When I was still a kid, I always hoped that I could attend a Debut party.. Unfortunately, none of my friends were 18 yet and I don't have an older sister. But now that I'm actually in my own debut season, I've been stressing about what-to-wear and what-to-give as a present for my friends.
Grace is actually my friend since 2nd year High School and she has been part of my barkada or clique ever since. Although, when college kick off, we seldom see each other anymore. Fortunately, there's Facebook to keep us posted and in touch with each others lives. Grace's debut was not my first attended party. I actually have attended a few now, I just wasn't able to blog about it. Grace's debut theme was purely Formal. Girls should wear gowns or cocktail dresses and Boys should be in their coat and tie. It was a good thing that I attended a wedding the day before this event so I already have a formal wear. The venue was very elegant and pink. It was on a 5-star hotel.
Before the event, we had our make up artist turn us into pretty princesses! :)
Nina
Chriza
My eyebrows look so dark here! :)
Nina with her fake eyelashes, which are barely noticeable considering she has very long lashes naturally.. hehehe
Me without fake eyelashes yet. Just make-up. Haha!
Now, I have my fake eyelashes here. It's the shortest of 'em all 'coz my first choice was too long and my mom didn't like it so she made me change it with the shorter one (this).
We all look dead with just foundation on our faces! LOL!
Here are some pictures of the event.
Her grand entrance
Hers was 18 Gifts, and here are our gifts waiting to be presented in front
She was crying because of her mommy's message
Her 18th Gift from her Mommy
We all wondered what's in the box full of shredded newspapers as she searched to find the tiny yet precious gift from her mommy. Curious? :)
Can you see now what she got? :)
Awww.. :) Tears of joy. This is a very emotional scene. I even cried too!
See? Hahaha!
She got a car!
Us, very happy for Grace! :) (We can now go partying and shopping without riding the taxi! LOL!)
My fake eyelashes fell off after I cried. LOL. :)
The cutting of cake ceremony
Grace had her own tarp!
The dinner was delicious. We're all so full.
But unfortunately, Chriza was having hyper acidity attack again! She is really acidic yet she always forgot to bring her medicine.
So we had to rush her to the hotel's clinic
We missed the 18 Roses and 18 Candles part of the event because we still waited for the nurse to be IN
Thank God the nurse provided her the most efficient medicine they have
Then, Chriza was relieved
She was again happy and bouncy! LOL!
(Left) Nina, Me, Grace, Chriza and Emyca
(Left) Emyca, Chriza, Grace, Me (Char) and Nina
And of course, the event wouldn't be complete without a photo shoot! Do'h! We're like all dressed up and glammed up so this better be documented! LOL.
Wee! <3 I love to twirl with this tulle skirt!
Gian and Angelo
Nina and Angelo
A pretty candid shot
It was a fun, princess-y event after all! We all had a glamorous evening thanks to the host of the event, Marry Grace. Belated
Happy Birthday
! We
Love
You a lot!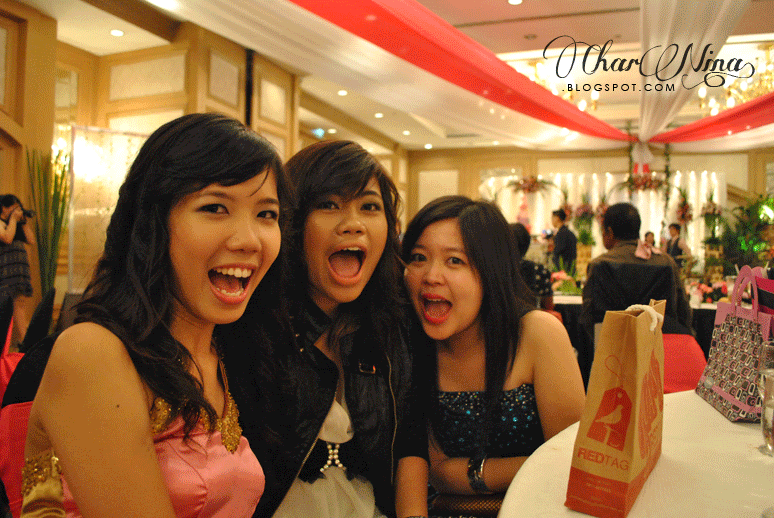 Comments are highly appreciated.
I am not a writer nor a speaker so forgive me if I have some wrong grammar and incoherence of thoughts.