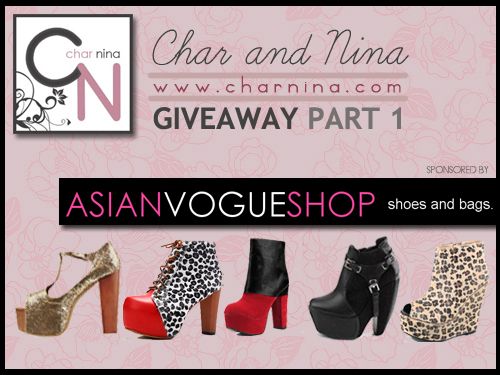 The first-ever Charnina.com giveaway!!
In celebration of the holidays and our 1st blog anniversary, we're giving away free shoes from Asian Vogue!!
PRIZE:

Asian Vogue offers everything from boots to heels to flats to designer replicas and more!
And we're giving away ONE (1) free pair of shoes of YOUR CHOICE to a lucky winner!!
So! What are you waiting for? Join now!!
REQUIREMENTS:
1.
Follow
publicly
this blog at
Google Friend Connect (click here)
or Click "Join this site" or "Follow" on the right if the link provided isn't working.
In case you don't have Blogger account, you can follow using your Yahoo!, Twitter, Google accounts.
We assume everyone has Facebook nowadays. But, if you really don't have one, you can use your friend's account.
3. Like Asian Vogue on Facebook and Post this on YOUR wall and make sure you tag Char and Nina & Asianvogue Shop's FB Page appropriately and make it PUBLIC.
" @Char and Nina is giving away free shoes of your choice from

@Asianvogue Shop

at

http://www.charnina.com/2012/01/char-and-ninas-giveaway-part-i-asian.html

! Join Now! #charninagiveaways #charninadotcom "
4. Follow Asian Vogue Shop on Twitter and tweet: (If your tweets are protected, mention @secretcharmm)
" Shoe Giveaway from @asianvogueshop in #charninagiveaways at


http://www.charnina.com/2012/01/char-and-ninas-giveaway-part-i-asian.html

#charninadotcom "
5. Comment on this post your:
Facebook name & link of post:

Twitter username & link of tweet:
Additional Entries



Total entries accumulated:
*All of the requirements must be completed in order to qualify, only the additional entries are optional.
*You get 5 entries automatically by just completing the requirements. We check every entry and we'll tweet you in case you miss one.
*To open the comment box, click the title of this post and check below.
ADDITIONAL ENTRIES (OPTIONAL):
More entries means more chances of winning!


(1 Entry) Become a fan of Char on Lookbook
(1 Entry) Follow Asianvogue shop on Tumblr
(1 Entry) Add Asianvogue shop on Multiply
(3 Entries) If you have a blog (Tumblr, Blogger, Wordpress, Xanga etc.), Repost this giveaway on a separate post in your blog. You have to place the permalink of this giveaway ( http://www.charnina.com/2012/01/char-and-ninas-giveaway-part-i-asian.html ) at the top of your blog post.
(3 Entries) Put the giveaway banner linking back to this post on the sidebar of your blog or anywhere visible on load of your site.
Choose any of these banners (codes provided below):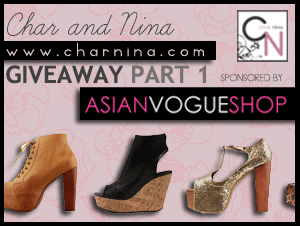 (GIF)Code:
(GIF)Code: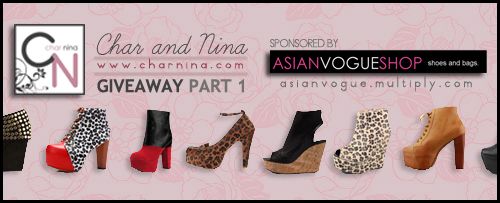 (JPEG)Code:
ONE(1) COMMENT PER PERSON ONLY. Include all your entry links in your one comment.
REMINDER: Only accept emails regarding this contest from charnina(at)ymail.com
Also, we will NEVER ask for your home address and contact number UNLESS you already won.
DEADLINE OF ENTRIES:
Submission of Entries are until
February 4, 2012
.
Do not submit past deadline.
CHOOSING OF WINNER:
The winner will be chosen via
random.org
and will be notified asap via her e-mail address provided, on
Char's twitter
, on
CharNina's FB Page
and here. He/She must reply within
48 hours
before a new winner will be chosen.
FOR PHILIPPINE RESIDENTS ONLY.
For Questions, tweet Char @secretcharmm